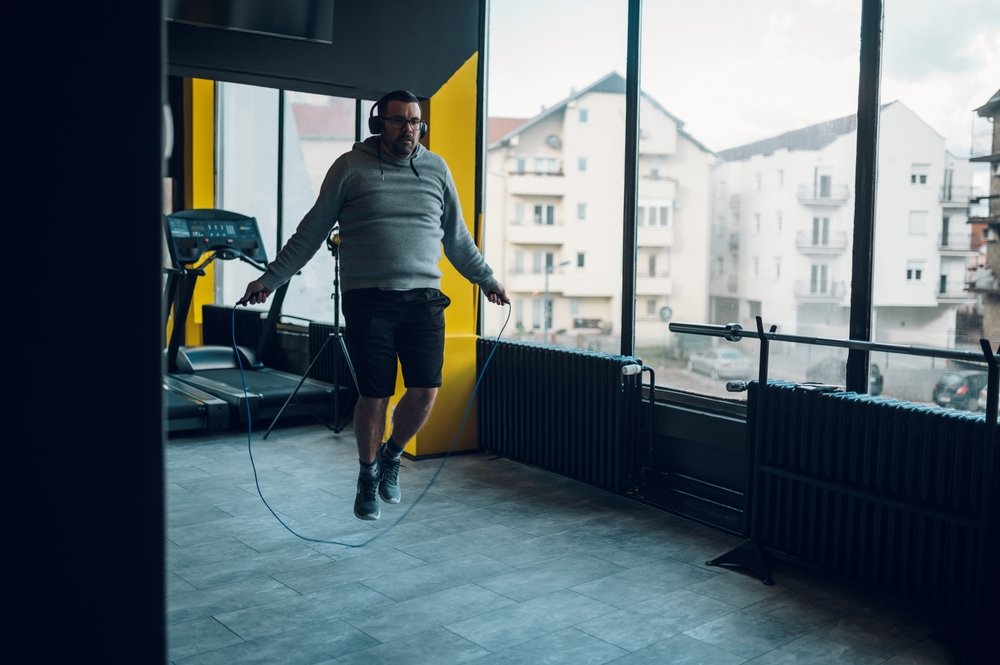 Registration for The GFP Fall Fat Loss Challenge is OPEN.
Hello,
One of the most common fears people over 40 have about working out is getting injured.
They've either injured themselves while working out or heard about a friend that got banged up.
But after thousands of conversations with people over 40, this is not the REAL fear, it's the surface one.
The REAL fear is what happens if they get hurt and have to stop working out entirely.
Here;s what people have reported to us after they stopped working.
They got flabby or "soft"
They got weaker
Their nutrition went off the rails
They had more anxiety
Their blood pressure went up
They lost their patience easier
They had less energy
They just felt...like crap
Here's why.
Exercise is a keystone habit.
This means that lots of good and healthy things like better sleep, better nutrition, and lower stress usually fall into place if you workout on a regular basis.
Take away the keystone habit and things fall off the rails.
This is the fear.
It;s not really the pain from an injury.
It's the pain of losing total control of your health and fitness.
So if an injury can take everything off the rails….it would make sense to put yourself in an environment where this is less likely.
There are always risks when working out, but it's usually higher in these settings.
Working out on your own
Working out in very large groups
Doing the same workout all the time
Doing workouts meant for someone 20 years younger than you
Doing only cardio
One of the most valuable things our clients have reported to us about why they continue to train with us….
...some for well over a decade...is that we make sure they're "doing it right"
When you "do it right", there's much less of a chance to get injured and you're much more likely to continue to be consistent with your health and fitness.
But there's another thing that many people make a big mistake with.
It's if they have a sore shoulder, they stop everything.
Just because you have a sore shoulder, doesn't mean the rest of your body can't continue to workout.
The problem is most people don't know how to work around it… so they stop….everything.
Another thing our clients love is that we are the only "fitness place" around with an in-house DPT who is also our lead trainer. If a member comes in and fears they may have a "tweak" or injury they may not be able to workout with, they can get a real rehabilitation focused professional to assess what is actually going on, and they can hop in our Rehab to Fitness bridge program called "Return to Fitness" where Dr. Tyler has a deep "bag of tricks" he can use to rehabilitate the site of the "injury" while you workout.
You get piece of mind, and stay on track with your keystone habits.
That's a massive win.
So if you're in need of some guidance with your workouts we've got just the thing.
To help you get on track we've opened up 20 spots for your 6 week "Get It Back" Challenge that starts October 11th.
Just text "Get it Back" to (412) 472-7413, and a coach will text you within 24 hours to get you some more information.
You Should Apply If You:
If you are worried about another year going by where you don't have control over your health
If your clothes are feeling a little tighter than you want them to be
If you're just done feeling tired all the time….
If your body aches and every time you try to work ou (or just walk up down the steps!) you get hurt
If you've given working out on your own an honest try, but just haven't been able to stay consistent.
If you just want a coach to take the lead for you and help you get this on track
Here's what you get…
"Cutting Edge Personal Training:" Get 18 Small Group Personal Training Sessions so you always have a coach watching every rep, which means you don't need to worry about what to do, how to do it, or if you are doing it right…(Yes even if you have chronic pain, injury or haven't worked out in years!)
"Nowhere to Hide" Get daily one-click accountability check in's on your phone, and 1:1 accountability conversations with your own personal health coach every other week, so you can be certain you won't fall off the wagon like most people when they begin an exercise program...which means you'll get better results than you ever have before.
"Eat This Not That" A Simple 6 Week Nutrition plan, built for your lifestyle and created specifically in a way that you can have success with your schedule and environment...which means all the stress of not knowing what to eat and how to fit it into your life will be totally eliminated.
"The Inner Strength, Better-Than-Money-Back-Guarantee" 100% Guaranteed or your money back/ We promise that within your first 45 days you will drop body fat, get stronger, eliminate chronic aches and pains and feel so much better than you have in years...if not, we'll refund every dime of your money back PLUS $100 back for wasting your time.
Just text Just text "Get it Back" to (412) 472-7413, and a coach will text you within 24 hours to get you some more information.
Ryan Wade
P.S. Just a heads up, we're only taking 20 people into this program so please apply before all spots are taken.